Saturday, September 20, 2014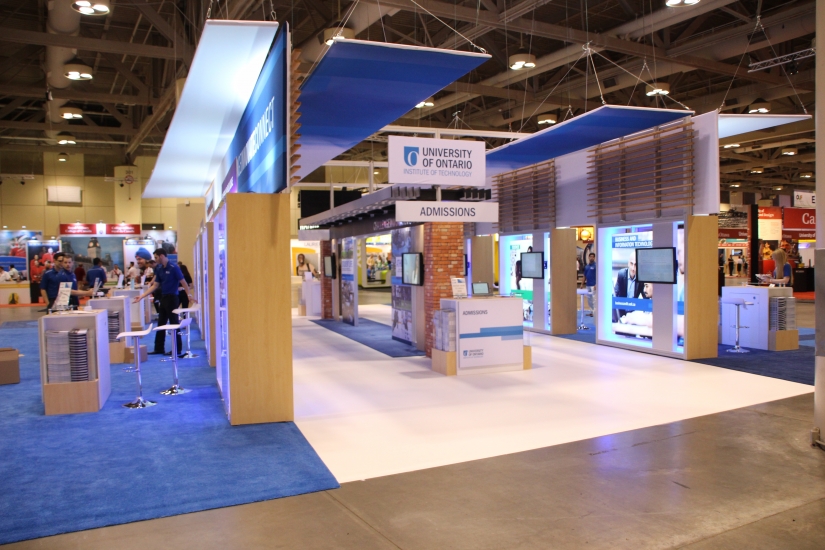 stevensE3 is proud to unveil a Masterpiece in exhibitry at the 2014 OUF Conference held in Toronto, Canada. Earlier this year stevensE3 was awarded the contract to design and construct the 3,000 sq. ft. UOIT pavilion at the annual event, a 6th University customer for stevensE3 at this show. stevensE3 kept the design under wraps until the unveiling at this years OUF. The objective was to design a booth that gave students an impression of what it was like on campus, and to feel like they were a part of the environment. Joe Stokes, Associate Registrar, Enrolment Services at UOIT said "for UOIT success at the OUF is a space that is warm and inviting, a space that students can see visually our message of a small university that is focused on innovative programs, technology and student content." When asked how well stevensE3 did in working with UOIT staff, Joe states that stevensE3 "gave us a design that helped us recreate a modern version of our campus within a trade show format, right on the trade show floor. They were able to develop meaningful relationships with our people, making them feel comfortable. stevensE3 had to work with multiple faculties and divisions and Stevens was wonderful working with each individual stakeholder and ensuring that we had the answers we needed to the questions we had. The relationship with stevensE3 was at the highest level."
For stevensE3, the Higher Education Sector is an important part of our customer portfolio, and we are proud of each and every University that we work with. It gives us great satisfaction to see this event come together each year as we build close to 18,000 sq. ft. in under 48 hours, preparing all our University customers for the onslaught of approximately 120,000 prospective students during this 3 day event.
The booth was designed to allow for ease of traffic flow, simplicity in navigating student to the areas where they will gather the information they need, and give them the experience of being on campus right at the OUF. As you walk through the "pathway of success" you will find interactive monitors with campus and program information and architecture reminiscent of the campus itself. Bright LED lighting, a corporate blue glow around the faculty kiosks, and huge tensioned fabric structures with branding and logos helping to identify the University and attract prospective students.
Overall... a glowing success!!!
Watch the time-lapse video of the construction of the booth!